Aging in Place Roll-In Showers Custom Designed for Your North Georgia Home
Many aging-in-place homeowners are looking towards the future and realizing that bathroom renovations may be needed to add safety and convenience, such as roll-in showers. Accessible roll-in showers may be enclosed on three sides or open in an area of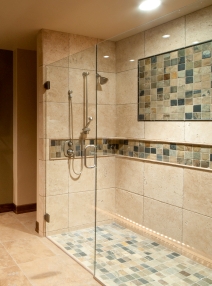 the bathroom with a central drain in a lowered portion of the tiled floor.
Walk-in Tub or Roll-in Shower
Enclosed ADA walk-in showers are either low-threshold, or no-threshold showers, with hand-held adjustable anti-scald shower heads making showering much easier. Would a walk-in tub or roll-in shower solve accessible challenges in your Atlanta or north Georgia home?
Stair Lifts and Platform Lifts
Other home modifications such as an indoor or outdoor straight or curved stairlift may be considerations, as well, if you or a loved one is facing a progressive illness or recent injury. A stair lift affords the convenience and safety needed for anyone who does not feel fully confident they can safely navigate stairs within the home.
Plan Ahead to Make the Changes You Need
If you or a loved one has a home in need of mobility upgrades, contact the professionals at Atlanta Home Modifications to learn more about roll in showers, walk in tubs and residential wheelchair lifts–by using the Atlanta Home Modifications web contact form, or by calling 770-880-3405. Don't let mobility issues force you out of your treasured family home in Atlanta or north Georgia, contact us to see if an outdoor straight or curved stairlift; or walk-in tub or roll-in shower design for your Atlanta home, would solve the accessibility problems you may be facing.
[contact-form-7 404 "Not Found"]