As you consider alternatives for remodeling your bathroom, Atlanta Home Modifications is here to assist you, utilizing our knowledge of accessibility equipment and ADA wheelchair access requirements to provide accessible walk-in tubs and roll-in showers, roll-under sinks and grab bars for bathrooms in Atlanta.
Safe and attractive walk-in bathtubs and roll-in showers make bathing much easier for those who cannot navigate a traditional tub or shower. For an in-home assessment, contact Atlanta Home Modifications at 770-880-3405.
One walk-in tub option, Ella's Deluxe Model is equipped with 22 air and hydrotherapy jets. Every Ella's model includes the same excellent warranty, ozone sterilization and an in-line water heater. The warranty for all models is lifetime limited warranty on stainless steel frame, door, door seal, and tub shell; and five year warranty on parts. Ozone sterilization is an essential sterilizing feature and noted on the Ella's website as follows:
"Ozone is a proven water disinfectant. NuWhirl's micrOzone generator targets tub plumbing where water can remain after baths, creating a higher concentration of ozone than many larger units. Its size—the smallest in the industry—means simple and flexible installation."
The Deluxe model size is 29.5" x 55" (59" with extension) x 40".  Ella's Dual Drain Technology consists of:
Dual 2" brass & copper drains (compare to one 1.5" standard drain)
Two copper overflows for faster and reliable drainage
Operated by two stainless steel mechanical cables for reliability
Two separate extension drain handles for easier use operation
Approximate 80 second draining time, at tub capacity"
For more information regarding hydrotherapy, the following quote from the manufacturer's website explains: "Hydrotherapy has many positive effects on the body. These effects can include but are not limited to; relieving arthritis, increasing circulation, decreasing muscle and joint pain, relieving headaches, reducing insomnia, and much more. It is clear bathing can be so much more than just getting clean. "
For more information about accessible walk-in tubs and roll-in showers, contact Atlanta Home Modifications at 770-880-3405.
Roll-In Showers for Aging in Place Bathroom Remodels 
If you are a person with a disability, or you have a family member with special needs, or an individual recovering from an illness, you may require home modifications such as an accessible walk-in tub or a roll-in shower to make your bathroom more accessible.
Roll-in showers not only allow for easier access but are designed to be used while safely seated. These showers also have the space needed for a caregiver to help out. Accessible roll-in showers may be enclosed on three sides or open in an area of the bathroom with a central drain in a lowered portion of a tiled floor. Enclosed ADA walk-in showers are either low-threshold, or no-threshold showers, with hand-held adjustable anti-scald shower heads making showering much easier.
Whether you require handicap showers, grab bars for bathrooms, easy transfer toilets, or an accessible shower or bath tub, Atlanta Home Modifications is ready with answers to solve your accessibility challenges. Contact us today for a FREE in home assessment by calling 770-880-3405.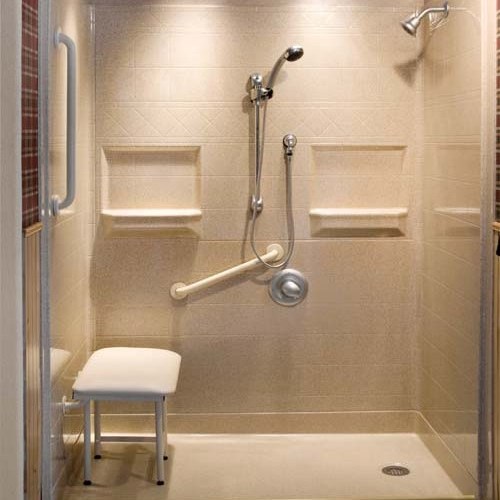 Atlanta Home Modifications has the home planning expertise
, CAPS certification training, and the necessary personal experience working with people who have mobility challenges in metro Atlanta and north Georgia, to enable us to successfully design a well coordinated, attractive and useful bathroom remodel for you.
We will help you determine the most attractive and efficient design for your bathroom incorporating accessible walk-in tubs and roll-in showers to solve mobility issues.
CALL US AT 770-880-3405 OR SEND US AN EMAIL!