If you have experienced the setback of an accident or a disability and are confronted with a home or office that is no longer accessible, consider the purchase or rental of a wheelchair modular ramp in metro Atlanta or north Georgia.
We design and install ADA compliant modular ramps for residential, commercial, civic and religious buildings in the metropolitan Atlanta area, providing solutions to accessibility challenges. Our ramps are available as a temporary or permanent installation.
Wheelchair and scooter ramp details vary substantially and require careful consideration as you plan to build and install a ramp. Attention must be given to:
Ramp slope
Ramp run lengths
Ramp width
Landings
Railing design
Weight requirements
Atlanta Home Modifications offers a complimentary on-site evaluation of your home, office, church, or other type of building to determine the best accessibility solution for you.
Modular Ramp Installation and ADA Ramp Requirements
Initial review determines whether the modular ramp should be installed on the exterior or the interior of the building. Frequently, there are different accessibility problems on both the interior and exterior of a building.
Ideally, the goal is to design one building modification, whether it be a ramp or an alternate solution such as a stair lift — that will solve both the external and internal building accessibility issues.
To see the manufacturing process behind EZ-ACCESS access modular ramps, check out this EZ-ACCESS video. EZ-ACCESS has gathered funding resources at this page that may offer financial assistance to individuals and organizations in need of accessibility products. Utilize this information to find the funding resources in your state or appropriate category. 
Call 770.880.3405 or email Atlanta Home Modifications via our website contact form.

ADA Wheelchair Ramp Requirements for Slope, Length and Width
To be in compliance with the ADA, ramps must have a slope between 1:12 and 1:20. This equates to the following formula: For every 1″ rise in vertical height, the ramp must extend a minimum of 12″ in length. This accommodates the physical abilities of average people as they propel themselves manually in a wheelchair.
The maximum allowable rise for a ramp run of any length is 30 inches. In addition, ramps must have a minimum width of 36 inches. These dimensions are required for ADA compliant ramps. Many municipalities do not have required specifications for residential ramps, and the dimensions may be slightly relaxed. Before building a wheelchair ramp, consult local code requirements.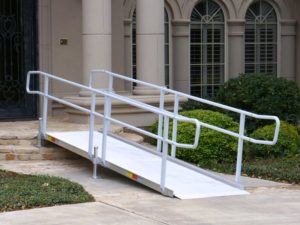 Many home ramps are installed in a garage location where the access to the home is more direct. Atlanta Home Modifications, LLC designs and installs ADA compliant wood, concrete and aluminum EZ-Access ramps in Atlanta and north Georgia.
Our ramp plans are available as temporary or permanent installations, providing a solution to your accessibility challenge.  Aluminum and steel ramps are appropriate for residential, commercial, religious and civic buildings.