The Safe and Functional Accessible Bathroom
Bathroom Remodels
For the person with a disability, bathing and toileting may often present a challenge. In fact, sometimes it is exhausting just to take a bath! There are many home modifications which can be done to make bathroom use easy and safe.  It is necessary to follow specific guidelines for arrangement and placement of each fixture to make it all work together.
Roll in Showers and Walk-in Tubs for Safety
Installing the appropriate fixture to meet your needs is essential. Many products are available including handicap showers and easy transfer toilets, grab bars for bathrooms and bathtubs, roll in showers, walk in tubs, and roll-under sinks. A successful accessible bathroom design and bathroom remodel requires knowledge of how the bathroom is to be used, familiarity with required clearances, ADA guidelines, and coordination of plumbing and electrical equipment.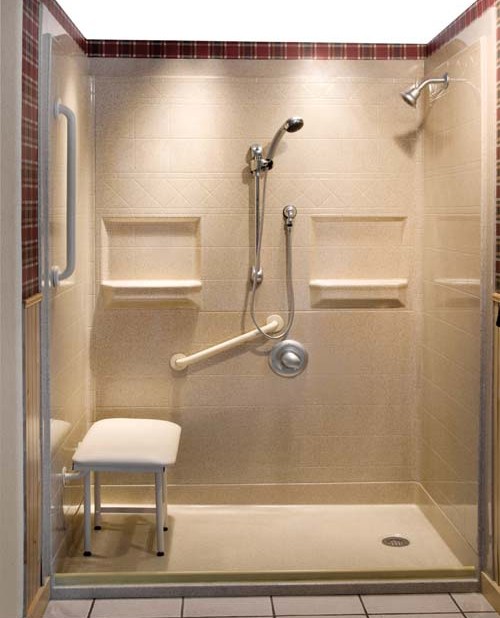 Competitive walk-in tub pricing includes a solid warranty and shipping and installation
costs giving you the peace of mind that comes with protecting your independence. Installation costs are dependent upon the layout and design of your home, and require a personal in-home evaluation to assess. The electrical, plumbing and physical layout of the home all play a role in proper and safe installation of your walk in tub.
Atlanta Home Modifications, LLC has the home planning expertise, the CAPS certification training, and the personal experience in working with people with disabilities to enable us to successfully design and remodel a well coordinated, attractive and useful bathroom for you. Contact us at 770-880-3405 today!
ATLANTA HOME MODIFICATIONS, LLC
Handicap Accessible Kitchen  |   Wheelchair Ramps  |   Stair Lifts and Elevators