Grab Bar Style and Installation
Grab bar design and installation have improved from the old heavy duty metal bar to a variety of multi-functional attractive grab bar hardware designed to ADA guidelines. Is a friend or loved one struggling with mobility in the bathroom? Consider adding grab bars. Stationary grab bars are permanently mounted to the wall or floor. Fold-up grab bars adjacent to the toilet rotate to pivot out of the way when not in use.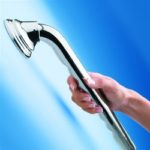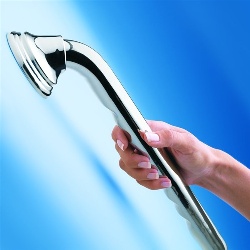 Shower grab bars are located vertically or horizontally on the wall to the side for getting in the shower, and then horizontally along the back for balance and support. Visit our Grab Bar Installation page to learn more about grab bars for showers and bathrooms, bathtub grab bars, grab bar availability, disability services and installation options.
Roll-under and Wall Mounted Sinks
Roll-under and wall-mounted sink styles offer the greatest accessibility. Accessible sink fixtures will a have an easy-to-operate lever style handle that mixes hot and cold water, or two lever handles, according to your preference.  One popular roll-under sink solution is a semi-mount sink, placed with an integral cover, to protect legs from hot pipes.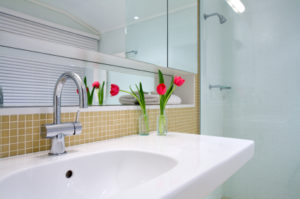 Bathroom sinks are identified by how they are mounted. In addition to wall-mounted and semi-mounted sinks, there are also drop-in, under-counter, above-counter, integral and pedestal style sinks for your consideration, designed according to ADA guidelines, and essential elements in a universal design home.
Accessible Toilets
Toilet selection is dependent on the height that is desired for comfort, type of the toilet and the flushing action. Easy transfer toilets are available in three types: a raised-height toilet, a wall-hung toilet, or an in-wall tank toilet.
Atlanta Home Modifications has the home planning expertise, the CAPS certification training, and the personal experience in working with people in the metro Atlanta area, to enable us to successfully design a well coordinated, attractive and useful bathroom for you. We will help you determine the most attractive and efficient design for your bathroom remodel.
If you are a person with a disability, have a young person in the home with special needs, or are an individual recovering from an illness, you may require aging in place modifications such as a walk-in barrier free tub to make your bathroom accessible.
Contact Atlanta Home Modifications at 770-880-3405 or email us for an In-Home Assessment.