Accessible walk in tubs offer easy, safe and pleasant bathing experiences. Walk in tubs are now available with state-of-the-art features and multiple product options. Easy to use swing-out doors, built-in seats, and jetted sprays come standard on many models such as the Ella Royal Dual Massage.
The Ella Royal Dual Massage walk-in bathtub is the king size version of the Ella Elite equipped with a swivel tray, contoured shell with wider seat and backrest, designer tub spout and a sleek multifunction pull-out hand shower. The almost two feet wide, the Ella Royal seat is very comfortable. The textured slip resistant floor, two safety grab bars and fast drain technology (80 seconds) provide optimal comfort.
The Ella acrylic bathtub is easy to clean, scratch resistant, impermeable to mold and bacteria, and reinforced with a rugged stainless steel frame which can easily be installed into a 2 or 3 wall setting or can be a free-standing unit.
Other features include a stainless steel and tempered glass door with replaceable door seal, a detachable wide backrest for comfortable back support, two ADA compliant grab bars, an anti-scald thermostatic control valve with built-in safety feature, dual massage composed of 24 strategically positioned hydro (14) and air (10) jets, and an ozone sterilization system. It includes a limited lifetime warranty on door, frame and shell and five year parts warranty.
Walk-in tubs solve many challenges in the accessible home, offering the following unique advantages:
Walk in tubs dispense with the need to lift a leg to enter the high threshold surface of traditional bathtubs, providing easy access via a door in the side of the tub.
The walk-in tub door is secure and leak-proof, allowing the water to be filled once the user is comfortably situated on the tub seat.
Hydrotherapy or bubble jets offer soothing relief to aching, sensitive or recovering limbs.
Water drains quickly so that the user may safely exit the tub without having to wait a long period of time.
Walk in tubs are attractive and easily integrated into aging in place homes.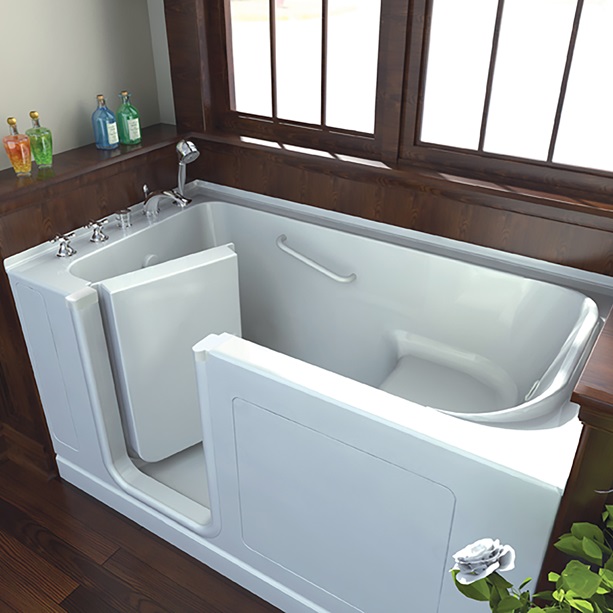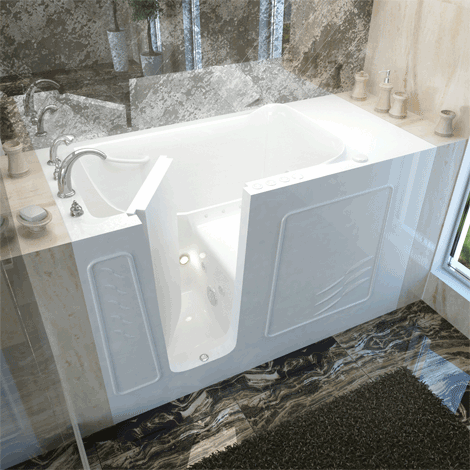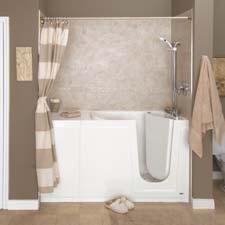 Avoid Accidents with Proper Accessible Fixtures
Having the proper accessible bathing and showering fixtures and the ability to safely get in and out, is essential. In fact, not having the right fixtures, and using makeshift temporary solutions, may cause accidents. Contact Atlanta Home Modifications to make an appointment for an in-home assessment of your residential bathroom to consider whether an accessible walk in tub is needed to solve mobility challenges for you or a loved one.
Accessible walk in tubs provide safe and comfortable bathing for everyone, solving difficult mobility challenges for many metro Atlanta and north Georgia residents. For information or an in-home assessment call 770.880.3405 or contact us via email