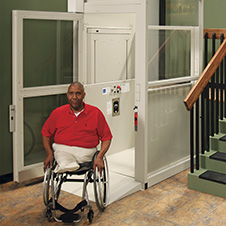 Wheelchair & Power Chair
Platform Lifts
Wheelchair platform lifts make you independent and your whole house accessible while offering a more affordable option than moving or adding on to your home.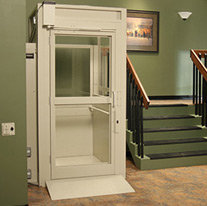 Vertical Platform Lift
(VPL)
The vertical platform lift carries a person in a wheelchair, power chair or scooter on a platform directly up and down from one level to the next.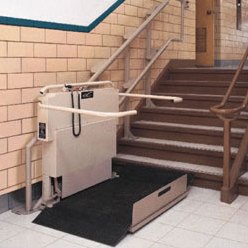 Inclined Platform Lift
(IPL) 
The inclined wheelchair platform lift carries the individual in their wheelchair, power chair or scooter on a platform at an incline at the same angle as the stair.
CALL US AT 770.880.3405
OR SEND AN EMAIL: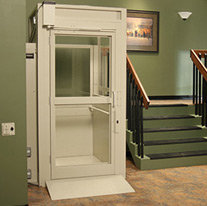 Vertical Platform Lift (VPL): A vertical platform lift is a specially designed lift that a person conveniently rolls into in the safety of his or her wheelchair or power chair and thereby has easy access to other levels of the office, home or property.
Its optimal features include a weight capacity of up to 750 pounds, multiple stop configurations, safe and easy-to-operate controls, built in safety features and cost effective options.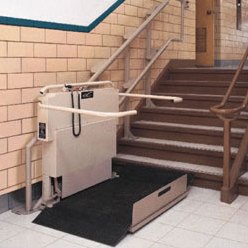 Inclined Platform Lift: Inclined Platform Wheelchair Lifts (IPLs) are equipped with a wheelchair platform that moves at the angle of an existing staircase carrying the user seated in a lightweight mobility device such as a power chair or wheelchair.  Manufactured with both straight and curved railings, inclined platform wheelchair lifts use a standard 110v outlet.
Equipped with a battery that stays charged, the IPL continues to run in the event of a power outage. When not in use, the platform on the IPL easily folds up enabling full access to the stairs for everyone.
If you or a loved one has difficulty transferring from your chair or power chair without a lift, you may be shopping for an inclined or vertical wheelchair platform lift, or a home elevator.   The vertical or inclined wheelchair platform lift gives you or a loved one independence in your home.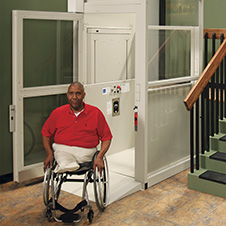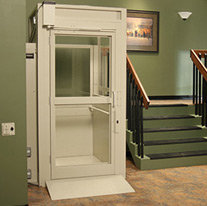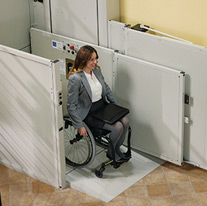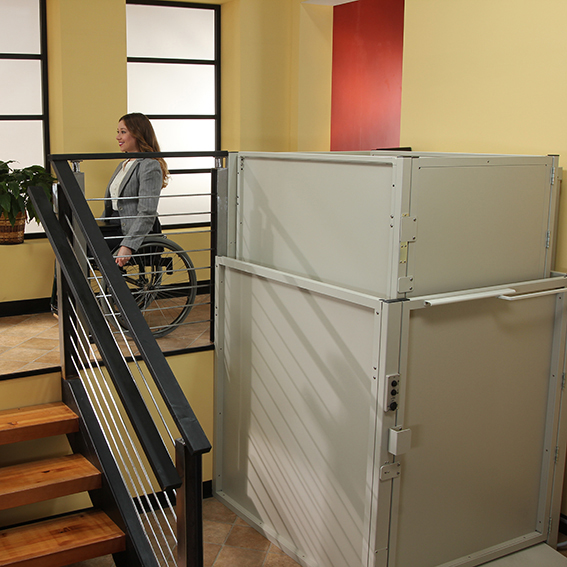 Bruno Commercial and Residential Vertical Platform Lift: Bruno vertical platform lifts are available for height variations of up to 14 feet, offering a cost-effective access solution to enable you or a loved one to stay in your home or office. When a mobility challenge occurs, a Bruno Vertical Platform Lift is just the solution.