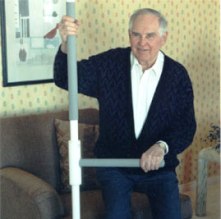 HealthCraft SuperPole Brings Stability to Atlanta Metro Residents
Have you ever watched an elderly or disabled loved one struggle to get out of bed or a deep chair, endeavoring to support themselves and prevent injury in the process? For those struggling with a disability in Atlanta, this type of situation can be a thing of the past – with the specially designed HealthCraft SuperPole.
The SuperPole assists the weakened or mobility-impaired individual with pulling himself out of a chair or bed and giving extra support wherever needed. It is a floor-to-ceiling grab bar, constructed of alloyed steel, which expands in order to create controlled tension and provide tangible security and confidence in use. The ends are rubber padded to ensure that no damage comes to floor or ceiling. Foam-covered handle grips provide a comfortable and secure hold, even for those with weak hands and limited strength.
HealthCraft says, "The SuperPole is a safety pole that can be easily installed between any floor and ceiling by simply turning a jackscrew. The pressure created by the jackscrew is strong enough to support you, yet it does not require drilling holes into the floor or ceiling."
The standard pole has a weight capacity of 300 pounds, while the heavy duty has a capacity of 450 pounds. The design is attractive and unobtrusive, is simple to install, and can be relocated to be used wherever it is needed!
Give those who are elderly or struggling with a disability in metro Atlanta the gift of security with a HealthCraft SuperPole today!
Contact Atlanta Home Modifications
For additional information regarding HealthCraft Superpoles, walk-in tubs and accessible showers in the Atlanta metro area and north Georgia, please contact Atlanta Home Modifications by telephone at 770.880.3405, or via the contact form.