Atlanta Home Modifications, LLC provides stair lifts, chair lifts, vertical and inclined platform lifts and home elevators for homes in north Georgia, east Alabama and southern Tennessee. An in-home assessment, product information and competitive stair lift prices are included.
Platform lifts, curved and straight chair lifts are wonderful solutions for seniors or people with mobility issues after rehab or major surgery. A stair lift carries the person up and down the stairs in a safe seated position, giving them safe access to the basement, upstairs or backyard.
If a renovation or move to one story living is not possible, the addition of a curved chair lift or straight stair lift in the home may be the best solution for safe and independent living at home.
Straight and Curved Stair Lifts
Stair lifts travel on tracks which are conveniently and quickly installed on the edge of the steps of your stair. The track is entirely supported on the treads of the stair, not interfering with the adjacent wall. Our stair lifts fold up to a narrow profile, enabling the stairway to be free and clear for the regular use of the stairway. Visit the Stair Lifts Atlanta, LLC website to read the three part analysis on how to select a stair lift. A few stair lift facts to consider:
Stair lifts have safe and easy-to-operate controls. 
Lifts make your whole house accessible.
Lifts are more affordable than moving or adding on to your home.
Stair and wheelchair lifts give you independence in your home.
Lifts make going up and down stairs easy
Atlanta Home Modifications offers a wide variety of residential elevators, stair lifts, wheelchair lifts, and dumbwaiters – representing the leading lift manufacturers. Our array of products and technical expertise insure that you will be able to make an informed decision about your lift selection and Atlanta stair chair lifts for your homes. Every lift or home elevator installation is performed by individuals who are certified by the State of Georgia, offering professional home lift installation, maintenance and repair.
Atlanta Home Modifications offers handicap accessibility design and installation of stair and chair lifts, inclined and vertical platform lifts, and residential elevators as modifications for your home. We provide a complete in-home assessment to provide you with product information and competitive stair lift prices for the installation of ADA Georgia certified stair lifts and elevators.
HOME ELEVATORS
Residential elevators are now considered a smart choice for homeowners planning to "age in place" in homes they have long cherished and simply do not want to leave. The home elevator solves accessibility problems better than most other options, and not only adds value bit is often found in many high-end homes.
The main types of home elevators include a two stop residential home elevator, a two to four stop home elevator enclosed in a shaft, a multi-stop elevator, and a pneumatic vacuum elevator. Typically, some rearrangement of spaces or a small addition is needed to incorporate an elevator into (or on to) a home.  This will require special planning and modifications to portions of the home to create greater independence and freedom of movement.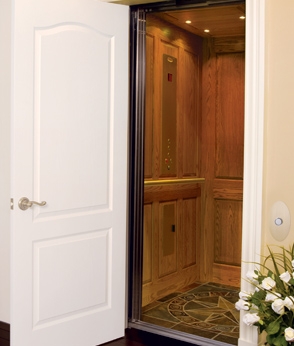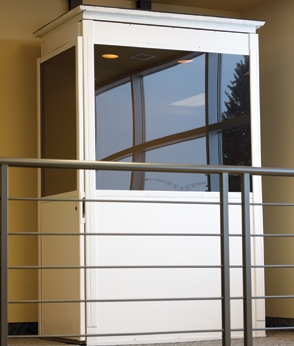 Contact Atlanta Home Modifications, LLC for more information about stair lifts, platform lifts and
home elevator options for your home or office at 770.880.3405.
SEND US AN EMAIL