Best Aging in Place Bathroom Design for Atlanta Homes
Increasing numbers of disabled, elderly and +55 senior Atlanta residents are opting to remain independent by remodeling their existing homes. One of the best aging in place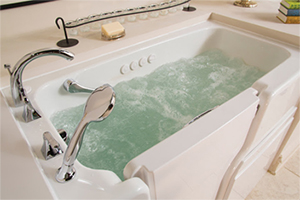 features concern aging in place bathroom designs which create safe, accessible and functional spaces. Some notable features of aging in place bathroom design include the following:
Grab bars, both horizontal and vertical, are often the first mobility tool implemented. They are practical, easy to install and add a great deal of reassurance concerning bathroom safety.
Roll-under and wall-mounted sinks provide easy access for wheelchair users, and offer such benefits as insulated pipes and hot-and-cold water moderation options.
Accessible toilets come in a variety of heights and styles, to make toileting simpler and safer in accord with the best aging in place design strategies for Atlanta homes.
Doorway widening is also immensely practical, as this allows a wheelchair or scooter to glide easily, without bumps and potential hazards, in and out of the bathroom entryway. This is either accomplished through the removal of the door and enlargement of the door frame itself, or by putting an offset hinge on the existing door to facilitate more space.
According to the National Association of Home Builders (NAHB), Aging in Place is defined as, "… living in one's home safely, independently, and comfortably, regardless of age, income, or ability level. It means the pleasure of living in a familiar environment throughout one's maturing years, and the ability to enjoy the familiar daily rituals and the special events that enrich all our lives. It means the reassurance of being able to call a house a 'home' for a lifetime."
If you are trying to determine the best aging in place design option for your Atlanta home, an in-home assessment by a certified aging in place specialist (CAPS) will provide excellent guidance.
Plan Ahead to Make the Changes You Need
If you or a loved one has a home in need of mobility upgrades, contact the professionals at Atlanta Home Modifications to learn more about roll in showers, walk in tubs and residential wheelchair lifts–by using the Atlanta Home Modifications web contact form, or by calling 770-880-3405. (Author – J. Vernon)
Error: Contact form not found.