Safety Features & Options
The Lowest Step-in Threshold in the Industry Today
Zero to 2 ½ inches! Because of our patent pending frameless design, we are able to make the American Bathing Solutions Walk-in Tub with the safest step-in height on the market today at only 0 – 2 ½ inches. Most walk-in tubs today have a 6 to 9-inch step-in, which is only a few inches less than a conventional bathtubs entry eight and a potential stumble hazard.
Numerous Sizes and Design of Our Walk-in Bathtubs
Safe Soak USA offers a variety of different sized walk-in tubs to fit the needs of any user or bathroom size. We promise to find a safe solution for your bathing needs, and of course, you may customize any of our tubs with the hydrotherapy options and special features such as Chromo Therapy, Bidet Hygiene Solutions, Ozone Cleaning, Aromatherapy, Safety Grab Bars (standard), and more.
Narrow Tub 26″ wide x 60″ long x 36″ high
Standard Tub 30″ wide x 60″ long x 36″ high
Deep Soaker Tub 36″ wide x 60″ long x (40″ and 42″) high
Easy Lock Door Latch and Leak Proof Design
The Safe Soak USA Tub comes with an Easy-Use locking handle that requires minimal force operate. In addition, our door seal is backed by our Leak-Free Guarantee and our door is secured to the frame using a sturdy, full-length piano style hinge.
Comfort-Curve Door Design
Our walk-in tub offers a unique Comfort-Curve design. This design feature allows our customers to easily close the door from a seated position as the door passes by their legs. We also have a "U shaped" door design for special needs circumstances.
Auto-purge Self Cleaning System
If you have ever turned on the water jets after a period of idleness on a spa or jetted bathtub, you know that dangerous mold & mildew may spew out of the jets when you turn them on. The Safe Soak USA walk-in tub comes with an auto-purge system which dries out the lines after each use to prevent harmful mold and mildew from entering your next bath's water.
High gloss Bacteria, Mold & Mildew Resistant Sanitary Marine-Grade Gel Coat Finish
Only the Best! The Safe Soak USA Walk-in Bathtub comes with a very generous application of our true Marine Grade bacteria and mold resistant gel coat. This gives your Safe Soak USA tub a beautiful high-gloss shine while resisting bacteria and making cleaning virtually effortless.
17″ High ADA Compliant Non-Slip Seat & Anti-Slip Floor
Our walk-in tub comes with a contoured seat that is 17″ high. This height is ADA compliant and makes standing and sitting from this level easily and comfortable. The Safe Soak USA seat is designed to be very comfortable and can include an adjustable bidet jet if desired. The floor of our walk-in tub is engineered to highly slip-resistant to prevent slips and falls.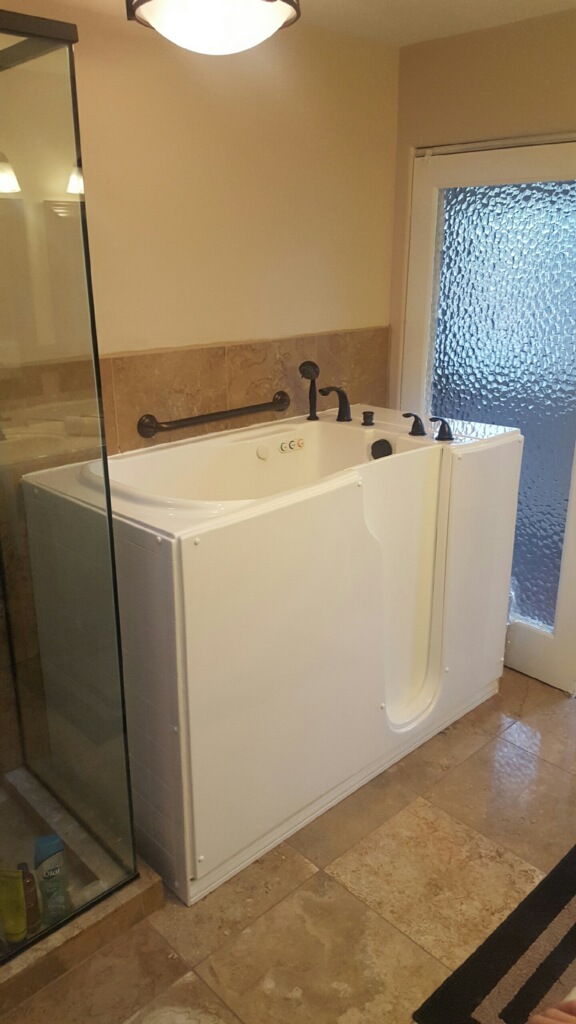 Falls Are Serious and Costly
Did you know that, according to the Centers For Disease Control (CDC), falls are the leading cause of injury and death in older Americans?
One out of five falls caused by getting in and out of the bathtub causes a serious injury such as broken bones or a head injury.
Each year, 2.8 million older people are treated in emergency departments for fall injuries.
Over 800,000 patients a year are hospitalized because of a fall injury, most often because of a head injury or hip fracture.
Each year at least 300,000 older people are hospitalized for hip fractures.
More than 95% of hip fractures are caused by falling, usually by falling sideways.
Falls are the most common cause of traumatic brain injuries.
In 2015, the total medical costs for falls totaled more than $50 billion.
Fall injuries are among the 20 most expensive medical conditions.
The average hospital cost for a fall injury is over $30,000.
The costs of treating fall injuries goes up with age.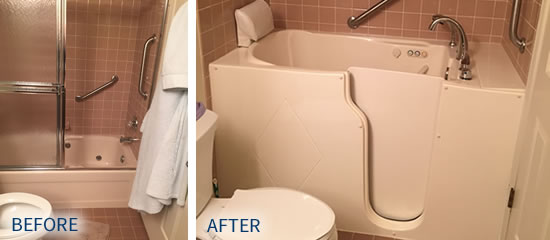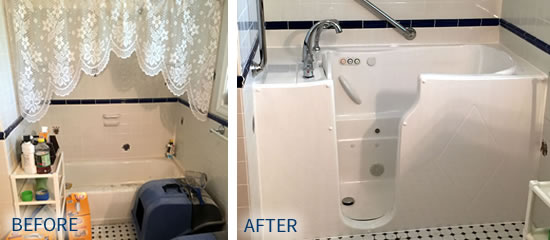 Avoid Accidents with Proper Accessible Fixtures
Having the proper accessible bathing and showering fixtures and the ability to safely get in and out, is essential. In fact, not having the right fixtures, and using makeshift temporary solutions, may cause accidents. Contact Atlanta Home Modifications to make an appointment for an in-home assessment of your residential bathroom to consider whether an accessible walk in tub is needed to solve mobility challenges for you or a loved one.
Accessible walk in tubs provide safe and comfortable bathing for everyone, solving difficult mobility challenges for many metro Atlanta and north Georgia residents. For information or an in-home assessment call 770.880.3405 or contact us via email